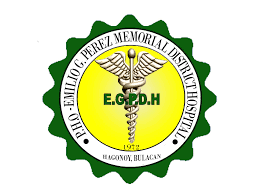 Emilio G. Perez Memorial District Hospital
148 Tres Media, Sto. Niño, Hagonoy, Bulacan
Regular Hours
Emergency Hours available!
About the hospital
The Emilio G. Perez Memorial District Hospital, formerly known as Hagonoy Emergency Hospital is a government entity established by the Department of Health through the joint efforts of the former Cong. Teodulo Natividad of the First Congressional District of Bulacan and the late Mayor Emilio G. Perez of Hagonoy, Bulacan, in whose memory it was named.
Medical Facilities
Pharmacy
Laboratory
X-ray
Family Planning
Location
Book Now
Choose the right doctor, medical service you need to examine and make an appointment right away.
Hospital