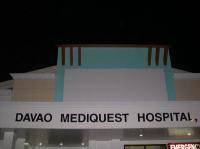 Davao Mediquest Hospital Inc.
Pan-Philippine Hwy, Lizada Toril, Davao City, 8000 Davao del Sur
Regular Hours
Emergency Hours available!
About the hospital
Davao Mediquest Hospital, Inc. is multispecilaity hospital in Davao City, Davao Del Sur, Philippines.
Medical Facilities
Emergency
Laboratory
Pharmacy
Location
Book Now
Choose the right doctor, medical service you need to examine and make an appointment right away.
Hospital