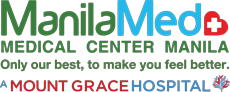 Medical Center Manila
1125 Gen. Luna St., Ermita, 1000 Manila
Regular Hours
Emergency Hours available!
About the hospital
At ManilaMed, we put your well-being as our priority. With the country's top healing professionals and state-of-the-art medical equipment and facilities, we strive to give only the best to our patients. With compassionate healthcare at the core of everything we do, we promise only our utmost care to every person who walk through our doors.
Specialties
Cardiology
Dentistry
Dermatology
Endocrinology
General Practitioner
Ear Nose and Throat
Hematology
Pulmonology
Infectious Disease
Nephrology
Medical Facilities
Sport And Exercise Medicine Center
Gender Diversity Center
Cancer Care Center
Ambulatory Care Center
Would Care Unit
Center For Women'S Health
Respiratory Therapy Department
Brain Center
Diabetes Care Center
Eye Center
Location
Book Now
Choose the right doctor, medical service you need to examine and make an appointment right away.
Hospital